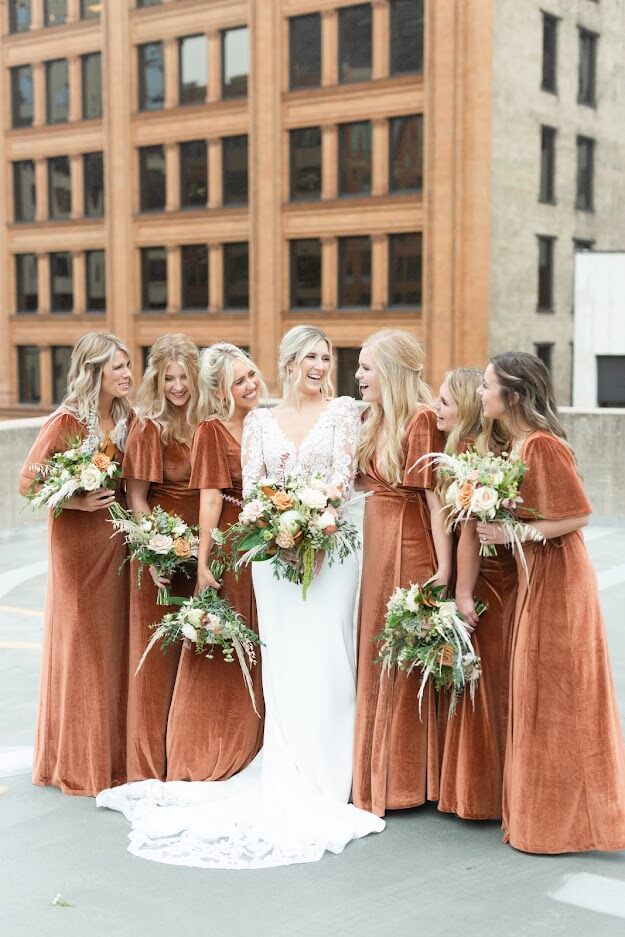 Fall images easily pop into mind, speaking of cozy chic and lush romance. Crisp air. Reds, golds, and oranges against an autumn blue sky. A perfect setting for the perfect wedding. Whether you're looking for Thanksgiving wedding ideas or to turn an ordinary autumn day into an extraordinary one, we have suggestions to create a fall wedding that you'll remember through every season to come.
Seasonally Inspired
It isn't difficult to pinpoint what makes an autumn wedding so special. Nature gives you a built-in backdrop full of color and dreamy inspiration. Fall allows for a rustic, natural setting for an outdoor wedding ceremony, or a theme that is effortlessly elegant, or even one that is relaxed and homey.
Overall though, fall weddings are certainly romantic. Cooler weather evokes images of cozy fires, candlelight dinners, and the excitement of shared holidays. It's also harvest time filled with endless food ideas, both traditional and creative. 
Planning a fall wedding includes deciding exactly when in fall you mean.
Is it the beginning, with colorful leaves still clinging to branches?

Is it later fall with the holidays right around the corner?

Is it a Thanksgiving wedding over the extended holiday weekend? 
Thinking about Thanksgiving
Thanksgiving parallels some of the same things as weddings, such as celebrating togetherness with family and friends, sharing food and drink, and showing thankfulness for those we love. But, before exploring Thanksgiving wedding ideas, think about who you will invite to your wedding. Who is most important to be there on your big day? This will help you weigh the pros and cons of planning a Thanksgiving wedding. 
Benefits of a holiday weekend wedding
A Four-day Adventure
The long weekend gives you the time to extend the celebration and even consider a destination wedding for your whole family. It gives you a chance to spend time together, celebrate your wedding, and the holiday. If you remain in your home city, it can also give you a list of things to do with out of town guests. 
Vacation Time
Most people have time off over Thanksgiving, so you will not be asking anyone to take extra time off for your wedding. This is appreciated.
Hotels
There can be deals on hotels over Thanksgiving because it is usually a home stay for many travelers. This can also mean that most of your guests are staying in the same hotel, where the party can continue. 
Limits Your Invite List
Planning a Thanksgiving wedding can help you limit your invite list by either inviting those you feel need to be invited but also knowing that they will most likely decline because of the holiday. Or it's a way to naturally limit the invite list to close family and friends. 
Holiday Inspiration
Autumn splendor, harvest time, and signatures of the season can be a beautiful inspiration for your décor, flowers, food, and cocktails. A romantic and cozy setting filled with warm candles and seasonal scents. Don't forget pumpkins and, of course, pie.
Difficulties of a holiday weekend wedding
Guests Will Decline
This goes back to thinking about who you want at your wedding. Thanksgiving is filled with family traditions that people will not break easily, even for a wedding celebration. This includes football, which is embedded in many Thanksgiving rituals, and fans do not appreciate the interruption.
Vendor Expense and Scheduling
Your vendors also have family and friends to spend Thanksgiving with. This means that using them will cost more money since their payment needs to be worth working over a holiday weekend.
Also, many of the shops that you could be using will be closed. You need to plan ahead. Many of the final details that could be left to a few days before the wedding need to be taken care of about two weeks earlier. 
Expensive, Busy Travel
Thanksgiving is one of the most heavily traveled weekends of the year. Airfares reflect this with increased prices and blackout dates for discounted travel or using airline points. Airports are crowded, and delays are more likely to happen. This also requires more planning.
If you want to plan a Thanksgiving wedding after weighing the benefits and challenges, there is a lot of inspiration to draw upon. 
Late-Autumn and Thanksgiving Wedding Ideas
The Flowers
Not enough can be said about flowers for a fall wedding. The color palette alone is rich with warm jewel tones, gold and silver metallics, or deep colors contrasted with sage greens and stark whites or greys. It gives a decidedly lush feel with an elegantly romantic vibe. 
Flowers that Abound in Autumn
The rich colors of gerbera daisies and dahlias are plentiful in fall, along with chrysanthemums, marigolds, or garden roses. Or consider something strikingly sophisticated such as Calla lilies or Asiatic lilies, or a pop of dramatic color with sunflowers. Also, don't overlook aster, leucadendron, thistle, yarrow, celosia, or protea. Your local florist can help you make flower decisions to express the style of wedding you imagine. 
A few questions to ask a wedding florist:
The Upfront Ones
Are you available for the wedding date? – This can be tricky over a holiday.

What are your rates? – Including minimums, packages, flat rates, and any additional costs.

Do you have decorative items? – Including vases, table runners, or candleholders.

Will you work with me to maximize my budget? – Clearly communicate your budget and hire a florist who will work with you to get the most out of it.
The Aesthetic Ones
You want to be on the same page with your florist on the look, feel, and style of your wedding. Besides looking at their portfolio and asking about their experience (Or getting a recommendation).
Ask:
How would you describe your aesthetic?

What do you recommend based on venue, theme, season, and color scheme?
Minneapolis wedding florist can assist you with all the details of your fall bouquet. 
The Dresses
Thanksgiving wedding dresses can express the same romantic, elegant, and lush feel that is reflected in your flowers and décor. Remember that the weather can be cool and even unpredictable. Think longer sleeves or the added touch of pashminas or boleros.
For your bridesmaids, consider dresses in the autumn color palette. With muted pinks, sage, dusty yellow, or peach. Or the richness of warm jewel tones, including auberge, merlot, or even rich oranges. Fall can also mean the classic navy and gold or even silver or grey.
The Cake
Fall wedding cakes are a chance to get creative and bring in the fresh fruits found in the harvest or spice it up with the flavors of the season, including cinnamon, nutmeg, and cardamom. This is especially true when it comes to a Thanksgiving wedding. It's a great time to also use edible gold foil or try a drizzle of scrumptious caramel.
You may want to forego the cake altogether and lean into your theme even more, which of course, means pie! There is the classic pumpkin but also a full array of fruit pies or pecan and sweet potato. Maybe serve rustic hand pies in a variety of flavors. 
The Food and Drink
Thanksgiving means comfort cuisine. Use Thanksgiving staples as a jumping-off point but transform them into elegant wedding dishes. Try a fresh take on green beans or a cranberry gelee to elevate the dishes into wedding-appropriate. 
More seasonal inspiration can be found in root vegetables, sweet potatoes, squash, pumpkins, pears, pomegranates, and apples. 
For drinks and cocktails, try a twist on hot cocoa or mulled apple cider. Fall cocktail recipes can cranberry or pomegranate or make a seasonal punch with champagne, apple cider, and bitters.
The Decor
It goes without saying that you want to leave the turkey crafts for the kiddie table at Grandma's, but there are many Thanksgiving wedding ideas when it comes to décor. Give a nod to the holiday while taking inspiration from all the season has to offer.
Fall wedding centerpieces can incorporate the abundance of the harvest. Try fresh produce, leafy, autumnal garlands, wood, pumpkins, gourds, fall flowers, berries, and acorns. And, of course, candles. Nothing evokes romance like the soft glow of candles on a fall evening. 
In another nod to Thanksgiving, consider banquet seating to evoke the communal meal of the holiday. And maybe even a venue with the warmth of a fireplace.
It's Your Day
No matter if you settle on an ordinary autumn weekend or a holiday one, the fall season offers up a full spectrum of wedding inspiration. If you do decide on a date over Thanksgiving, planning for the challenges of the holiday weekend is a must. But then incorporate Thanksgiving wedding ideas into a special celebration you will never forget.