Many people refer to summer as Wedding Season, and while we don't entirely disagree. L/X loves a gorgeous fall wedding!
We've put together this list of our favorite fall weddings fantasies… You will instantly fall in love with vibrant and extraordinary fall wedding color palette.
Fall Wedding Color Palette must haves
Whether it's rustic country barns or the trees changing colors that have you saying "I do" to a fall wedding, one thing is for sure. There is absolutely no shortage of beautiful ideas to incorporate a fall color palette into your wedding planning this autumn. Rich earthy hues like deep reds, jeweled purples, and subtle greens will help set the mood for an elegant and romantic wedding night. So ladies and gentlemen, we have gathered here today to help you find the best colors for your wedding: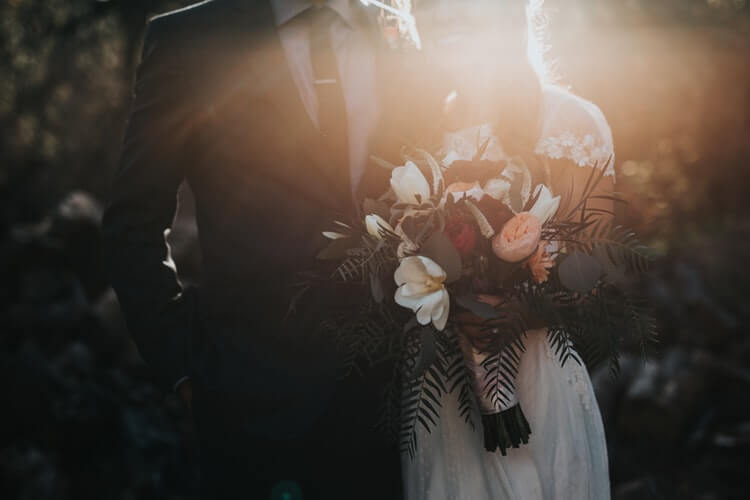 Warm, Jewel Tones
Think regal. Plan your princess gown and tiara moment with a color scheme worthy for Meghan Markle. Get romantic with luxurious shades of deep purples and reds, like boysenberry or aubergine. If you are planning on getting married in an area with magnificent forestry, and exposed archways, this is the color palette for you. The rich colors will pop by the accents of greens from the trees, making you stand out. Up the ante by setting an otherwise simple table setting with dark red and purple florals with accents of ivy.
Deep Green and Bright White
Planning a "should be fall but it's basically winter" wedding? Especially if you live in Minnesota, our "fall season" lasts a total of maybe two weeks. No worries, bridge the seasonal gap with this simple and elegant fall color palette of hunter green and crisp, bright white accents. Best for a more modern wedding, leafy décor can be added to table centerpieces, aisle runs, and bouquets.
Pumpkin, Blush, and Sage for your autumn wedding
Autumn comes with its own colors so why not lean all the way into it with a palette of pumpkin, blush, and sage. These colors are just as cute as they sound. Perfect for an outdoor wedding, this fall color palette will perfectly match the changing on the leaves during your special day. You can even add real foliage to your cake or signage to bring that fall touch inside your wedding venue. This palette is perfect if you're not sure whether to focus on a summer or fall theme, as the pumpkin and blush pink cover both seasons.
Cool Mustard and Natural Greens for unique fall wedding
A new trend this year, the color mustard can take your wedding up a notch and make it unique. The chic dusty yellow color will enhance the modern rustic venue or highlight the "fall wedding color palette" in an industrial one. Pair it with some soothing greens in bouquets and centerpieces, and you will have a modern countryside twist that is sought out by many. 
Classic fall wedding color palette essentials: Navy and Gold
These classic shades of elegant navy and gold are timeless for your fall wedding. The navy brings a cool tone to the typical fall color palette, making it a unique way to stand out from the usual warm tones of reds and oranges. The gold delivers a much more sophisticated and "black tie" appeal to the palette, so don't be afraid to add gold accents to the invitations or place cards with gold foil, it will make your guests feel extravagant and special. Besides, who said fall couldn't be glam? 
Merlot, Peach, and Sage
Thinking about throwing a rustic, more simple fall wedding? Consider shades of merlot, peach, and sage for your fall color palette. These colors are elegant yet fall inspired without trying too hard. A beautiful shade of light peach can be easily enhanced with deep shades of merlot and sage.  Not to mention you can even incorporate real peaches into the desserts or use peach colored flowers to accent your rustic white cake.
Emerald and Pale Pink
These colors scream romance in every way. Celebrate the season's nature with emerald green and add accents of pale pink for a delicate look. Don't be afraid to add greenery into every touch with bouquets, table runners, and archways to make for a romantic feel. Come night time, enhance the colors with mood lighting to create a whimsical, enchanted evening atmosphere for your fall wedding.
Silver and Light Gray
As the weather cools down, a glamorous way to celebrate the upcoming season is with hints of silver and light gray. Place tealight candles in every nook and cranny for a delicate appeal and embrace a crisp menu to match the color palette, possibly a seafood bar or dainty appetizers.
Maroon, Blue, and Cameo Pink
This fall color palette delivers a "breezy November at the beach" wedding, and texture plays a large role in executing these colors. Think watercolor calligraphy signage and invitations for a breezy detail that carries through the whole wedding. Billowing fabrics and overflowing blooms will create an elegant and relaxed feel,and a "barely there" frosted cake will bring all the touches together. 
A Fall Wedding of Your Dreams
Fall weddings are always a magical experience. Why? Because, there is so much room to create a unique theme just for you. You can have your dream wedding, and if you need a venue that will accomodate all of the beautiful colors you choose, The Lumber Exchange is the one for you. Finally, there are plenty of spaces to choose from to execute your vision, and we will provide