How to Find the Perfect Venues for Corporate Events
Planning a corporate event is a big project with many moving pieces. The first and most important part of your planning process is finding a top-notch event location. But how do you find ideal venues for corporate events? We'll take you through some of the most important steps and questions to consider as you explore how to find a venue for an event and create an unforgettable experience for everyone.
Determine Your Needs and Budget
Before you start your search for venues for corporate events, your first step is to figure out your needs and budget. You may want to brainstorm all the basics first: What type of event are you planning? How many attendees do you expect? Do you want a large ballroom or a more intimate setting? Will you need catering or audiovisual equipment? 
You'll want to consider your budget in the planning process early on. Determine how much you're willing to spend on the corporate venue and any additional services you may need. Keep in mind that some venues may require a minimum spend or charge extra fees for services like catering or audiovisual equipment.
Once you've established your basic needs, you can dig into the details more easily, but you'll already have the roadmap to find the perfect venues for corporate events.
Research Venues and Ask for Referrals
You can, of course, do an online search for venues for corporate events in your desired location. But there are also event planning websites like EventUp or Cvent that let you search for venues and compare prices and amenities.
When researching venues online, pay attention to the photos and virtual tours. They can give you a good initial idea of the spaces and amenities available. You can also read reviews from previous customers to get a sense of their experiences with different venues for corporate events.
But don't just rely on the web! If you know someone who has planned an event in the past, ask for referrals. Word of mouth is one of the most reliable ways to find a corporate venue you trust. You can also reach out to professional associations or industry groups for recommendations.
Visit Venues and Check Out the Atmosphere
Once you've narrowed down your options, it's important to visit your top venues in person before making a final decision. When you're there, pay attention to the layout of the spaces and all the amenities available. The perfect venue will meet your more practical needs, but it will also feel good for you and your guests.
Venues for corporate events come in many shapes and sizes. So it's critical to think about what your needs are and if the venue you choose will be able to meet them. Will the venue be able to accommodate all of the activities you're planning? Do you need multiple rooms for different parts of the event? A stage or designated area for special presentations or speakers? What about a coat room or green room? And what does the parking situation look like? Are there enough restrooms? 
The overall atmosphere and ambiance can significantly impact the success of your event. Think about the type of energy you want to create and look for a corporate venue that fits your vision. For example, if you're planning a formal gala, you may want to look for a venue with elegant decor and sophisticated ambiance. If you're organizing a more intimate event, you may choose a space with a relaxed atmosphere and a more casual vibe. And don't forget that you'll want to make sure that the corporate venue fits your company brand.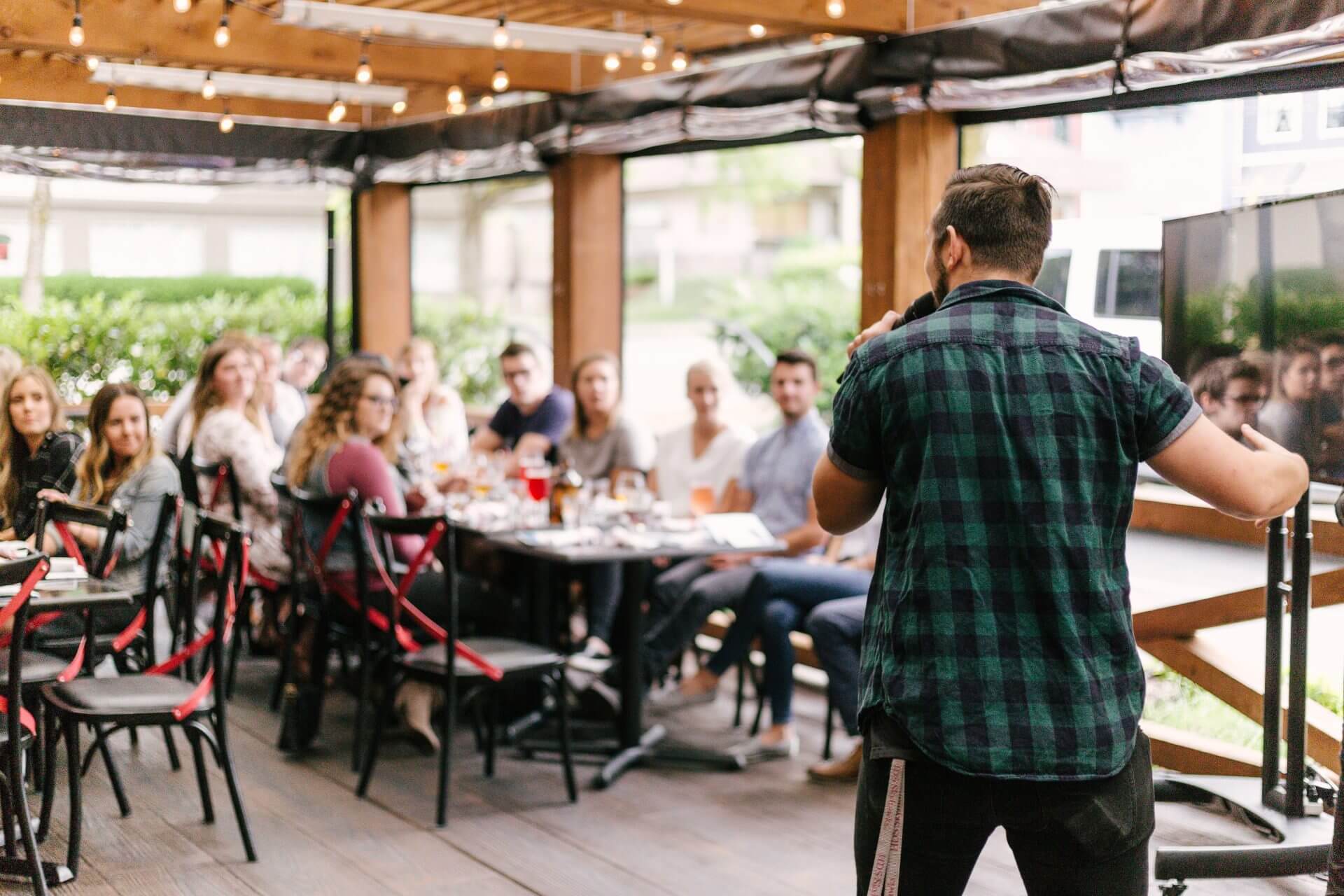 Look Into Location
Your venue should be easily accessible for all attendees, whether they're driving, ridesharing, or taking public transportation. Safety and convenience are important when you're looking for venues for corporate events. To narrow down your location options, consider the following factors:
Proximity and Transportation: Where are your guests coming from and how far will they need to travel? If you have guests flying in from out of town, select a corporate venue that's easy to get to by public transportation or one that's close to the airport and hotel options. If people are mostly driving, make sure there is ample parking available at no cost or a reasonable fee.
Local Attractions: You may want to choose a venue that's close to local attractions or entertainment options, especially if people are flying in. This can make it easier for your guests to enjoy their time in the area, and your event will be even more memorable.
Budget: You'll definitely want to keep your budget in mind when selecting venues for corporate events. Some areas may be more expensive than others, so remember the cost of accommodations, transportation, and other expenses when making your decision.
Consider All the Extras
When you're choosing venues for corporate events, a lot more matters than the space itself. Think about all of the elements you'll need to make the planning process as seamless as possible and create an amazing event.
Food and Drink
If you're planning a corporate event, there's a good chance you'll want food and drink to keep everything feeling special. When selecting a venue, make sure to ask all of your questions about catering upfront. Are food and drink included in your total package? Does the venue have its own kitchen and staff? Will they be able to accommodate dietary restrictions? Do they have a preferred outside caterer? If you're planning to serve alcohol, does the venue have all the necessary licensing? 
Audiovisual Equipment and WiFi
Audiovisual equipment is another piece of the planning puzzle you should ask about early on. Make sure to inquire about any additional fees that may come up. Some venues require that you use their preferred AV vendors, while others allow you to bring in your own. It's also important to ask about onsite staff support for any AV needs. And be sure to inquire about the venue's WiFi options and make sure it can handle a large number of devices at once.
Lighting and Acoustics
A beautiful space can't live up to its potential without good lighting. Make sure to select a venue with lighting that can be adjusted based on the needs of your event. If your event will include presentations or speeches, make sure that the lighting is appropriate for those activities.
The ambiance of your event also depends on acoustics. Certain interior designs might look impressive, but impact sound. If you're playing music, will the guests still be able to hear each other in conversation? If you need mics for speakers, will the venue be able to provide those with the rest of the AV equipment? And can they ensure that a speaker will be heard and understood? Make sure the corporate venue has thought through all of these questions.
Additional Services
When selecting a venue for a corporate event, remember to ask about any additional services that the venue may offer. This could include services like a coat check, valet parking, or event planning. These additional services can help to make your event run even more smoothly.
Ask About Accessibility
When selecting a venue for a corporate event, it's important to consider accessibility. The venue should be easily accessible for all attendees, including those with disabilities or mobility issues. Make sure that the venue has wheelchair ramps, accessible restrooms, elevators, and wide doorways that can accommodate guests in wheelchairs or with other mobility aids. Also, make sure that the venue has accessible parking spaces and that there are no steps or other barriers that would make it difficult for guests to enter the building.
In addition to physical accessibility, you should also consider other accommodations that may be needed for guests with disabilities. For example, if you have guests with visual impairments, you may need to provide braille signage or audio descriptions of presentations. If you have guests with hearing impairments, you may need to provide sign language interpreters or closed captioning for videos.
Conclusion
Selecting the perfect venues for corporate events can be a daunting task, but with careful planning and consideration, you can find a venue that meets all of your needs and exceeds your expectations. By keeping these tips in mind, you can narrow down your options and find the ideal venue to make your corporate event a success!